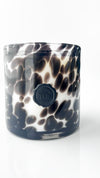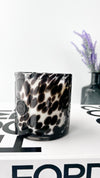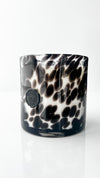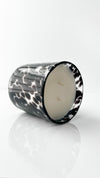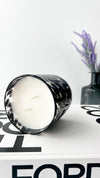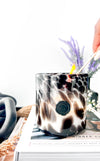 PARK AVENUE: OUD PATCHOULI + SANDALWOOD
PARK AVENUE: BLACK 2-WICK CANDLE
Shipping calculated at checkout.
PARK AVENUE: BLACK PRINT 

Park Avenue is a unique and beautiful multi-wick candle with two cotton wicks to provide a clean burn. This candle burns for approximately 75-85 hours.  Our candles are hand-poured in reusable vessels with a proprietary soy wax blend and do not contain dyes or synthetic fragrances. For an optimum burning time, please follow the candle care recommendations provided with your candle. 
The candle features black label that reads THE LIFESTYLE BRAND COMPANY TLB.

This glass candle is meant to be displayed and stand out as a statement piece in your space as part of your elegant décor. Decorate with it and fill your environment with sexy patchouli and woody sandalwood, followed by the bold scent of ouds and rich resins.
FRAGRANCE DESCRIPTION
OUD PATCHOULI + SANDALWOOD
Fragrance Notes: Bergamot, Lemon Rind, Lavender, Tulip, Violet, Oud, Patchouli, Sandalwood, Resins, Amber
Approximate Burn Time: up to 85 hours
Wax Weight: 15 oz. (425.24 g)
Vessel Size:  4" x 4" inches
Color: Black Print
Wick Type: 2 cotton wicks
Scent Throw (after 30 mins-1hr): Moderate to Intense
Recommended room to burn: Bedroom or small open smart spaces (Loft, formal dining room) 
INSTRUCTIONS
Make sure you have enough time for your candle's initial burn. Your first burn must be between 3.5 to 4 hours. The first 1-3 burns should melt the wax to the edge of the container, ensuring that it does so evenly down the glass as your candle melts. For a clean burn, please always trim your wicks based on the warning label at the bottom of the candle before each use.  Please see our Candle Accessories.  Please also visit our Candle Care, Safety + Tips section.
Please note that specs are approximate. Each jar is handblown and weight and dimensions will vary. No two pieces are identical and each jar is truly one-of-a-kind. Color is deposited into the glass, rather than painted, making this piece both exclusive and durable. And the candle wax creates a beautiful white background. 
When you have finished burning your candle, clean your beautiful vessel and repurpose it!  And because the vessel is not painted, they can be resused as drinking glasses or barware.